What I love about the Kindle…
…is not the device itself, but it is the whole ecosystem that surrounds it.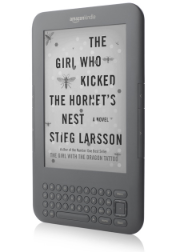 I have received my Kindle as a gift at the beginning of this year, and it quickly became my favorite gift of all time.
That can be quite surprising, knowing me. I own many different devices, gadgets and computers, but I have always been fond of the smell and feeling of paper books. Knowing that, some people were ready to bet that I would use the Kindle for just a few days and neglect it shortly after for something else (e.g. my iPad).
I must admit that I am sure this is exactly what would have happened with any other e-reader device. My experience with the Kindle, however, was (surprisingly) awesome, and it due to reasons I didn't expect.
While the reader by itself is a great device under any aspect that matters (i.e. it is light, fast and the battery lasts weeks), the number of services Amazon built on top of that make the experience with the Kindle even better.
As you probably know by now, you can buy books directly from the device, you can send your files and documents over email, it automatically downloads new content over WiFi or 3G connections.
What I found incredibly useful, though, is the ability to read any book I downloaded from Amazon on any of the devices I use (whether it is a PC, a Mac, a phone or an iPad) by using the dedicated apps Amazon built for each of those.
All apps and devices are able to sync wirelessly, without the need for any cable connection to a computer. Even more important, any progress you make while reading the book is synchronized to all the devices you use to read it.
So, imagine the scenario, even if you read 3-5 pages of a book on your cell phone while waiting in line at the post office, the next time you pick up your Kindle you will find yourself at the right page. Isn't that great?
I still miss this kind of feature every time I need to semi-manually manage 1-hour podcasts between my iPod nano, iPad, work and home computers. I'm sure you understand how much having to deal with such a nuisance makes the Kindle even more sweet to my eyes.
Liked this?
You can sign up here to be notified of new content. Low frequency, no spam.