What you should know before moving to Amsterdam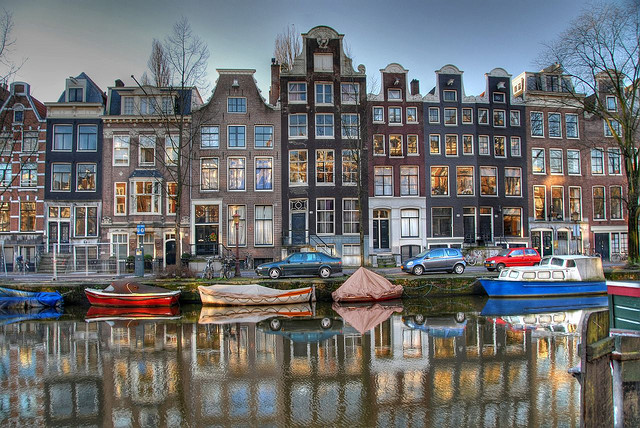 This post is a bit unusual for this blog: a few months ago I moved from Milan to Amsterdam (curiously, four years after my first visit to the city) and gathered some advice from friends and websites in the process. That information helped a great deal during my first weeks here and ensured that my move was a smooth one. I believe others in the same situation may benefit from the notes I gathered, so I decided to post them here.
As an EU citizen with a job offer from a company that has an office in the Netherlands, my transition was quite easy, but there were still some aspects that took me a while to figure out: I will try to cover most of them within this post. For everything else, you may find a lot of useful information in the links at the end of this article.
Table of Contents
Finding an apartment
I had started looking for apartments to rent a couple of weeks before flying in but soon realized it was an exercise in futility. The rental market is extremely dynamic here: properties that are up for rent one day may be gone the day after and new ones show up daily. Because of the high demand, both agents and landlords tend to ignore messages from anyone who is not already in the city. Start looking for apartments during the very last days before moving in: it will give you an idea about the market prices and you will have some chances of getting an appointment to see the places you want to see before they are rented out.
Here a few websites you can start from
Funda – a website affiliated with the national association of real estate agents, it is one of the most reliable sources as the postings are reviewed and usually backed by an agency. The downside is that it is only in Dutch (you'd better get used to that), but you can Google Translate it.
Pararius – you will generally find almost the same postings you found on Funda, but Pararius is translated in several other languages (I mean the interface: the contents of the posting are likely to be in Dutch, clearly) but sometimes you can find posting by landlords that are not relying on an agency (yet).
Craigslist – less popular here than in the US, it is still possible to find a good number of listings for Amsterdam. Beware, however, that a good fraction of them are from scammers after your money or your personal details. If you are willing to invest some time to sift though the garbage, you may find some good deal without having to rely on an agency. You may use this IFTTT recipe to get email notifications of new posts straight in your inbox.
While there are other websites, they are likely to have the same information you can find on Funda and Pararius.
Once you are in Amsterdam you can visit agencies in the area(s) you are considering and tell them your requirements and your expectations. Do not overdo by contacting too many of them, though: most agencies have access to the same properties to rent, and they it is not unlikely that they will propose you the same properties you saw yourself on Funda.
Make sure you visit the areas where you are considering renting: while the city is small and commute is generally significantly shorter than in other European cities, each neighborhood has its own character and perks. Ideally, you will want to see what the place looks like during day and night.
Depending on where you live now, there are some details you may not pay attention to because they are not as relevant in the city you come from. A few examples
tram lines – check whether there is a tram line running right below your window and the area is popular with tourists. The combination of those two is that you will frequently hear the loud bell noise conductors use to scare people away (literally) of the tracks. Most houses are built with bedrooms away from the road so the noise may be less of a problem at night, but still you want to know what to expect.
bike stands – some neighborhoods seem to have a chronic shortage of bike stands. While usually you may be able to chain your bike to a signpost or a tree, it may still be difficult to find a place to leave it if you come back late at night.
parking – if you are planning on driving a car, bear in mind that finding a place to park in Amsterdam is generally challenging, and usually it is not free. You can apply for a parking permit for the neighborhood you live in, but there may be a wait list several months long.
shops – since there aren't many malls but plenty of smaller supermarkets, you will not be shopping for groceries once per week, but you will find it easier to make smaller purchases more frequently. Surprisingly, butcher shops, bakeries and greengrocers are cheaper (and the food you find there often tastes better) than supermarkets. Having shops close to your place will make your file easier in this sense.
Once you find a place you like, it is time to look at how contracts work.
Understanding the contract
The laws regarding renting in the Netherlands are very protective of tenants. The market is strictly regulated and aspects like the conditions for breaking the contract, the maximum rent and standard contract conditions have to follow certain rules. I found this article to be a good source of information about how the whole system works.
Two important points about the regulations are that, under normal circumstances:
only the tenant is allowed to break a contract,
"temporary" contracts are extremely uncommon.
There is a points system according to which every apartment is given a score depending on many different factors (condition, location and many others), and that score determines the maximum price a landlord is allowed to charge. However, as soon as the score of an apartment exceeds the number points that correspond to about € 650, that apartment is considered to belong to "free market" and the score is not really important anymore. That explains why there is almost no apartment in the € 650 – 900 range: apartments that rent for less than € 650 are usually given to locals who have the patience to apply for rent and go through a wait list, and then there is a second market for expats, who don't know the system or can't afford to wait months in order to secure a fair rent. If you have a contract and you are not sure whether it is fair there is a non-profit organization, called Wijksteunpunten Wonen, that can help you: its members will review your contract and give you advice on how to proceed.
Understanding rent costs
Rent prices in the Netherlands can be **exclusive or **inclusive of expenses. Exclusive prices work as you expect: you pay the landlord the base rent only, and you have to pay all the service costs yourself. With an inclusive rent, you pay an estimated amount in addition to the base rent as an advance payment for service costs (like energy and gas). In this case, the landlord is expected to keep an account of the actual costs and settle the bill at the end of the each year (refunding you the difference if you paid more or asking you to pay the difference if you paid less), so that you will not have to take care of setting up the contracts for energy, gas and the rest.
Regardless which option you choose, you will also need to consider that you will be expected to pay all the bills that are in registered in your name (like the taxes for water and for waste disposal). Fees often depend on where you live, you may spend about € 300 per year in addition to the rent. You will start getting those bills by the moment you register as a resident (see the following sections) in your apartment.
If you rely on an agency, be prepared to pay a commission of roughly one month's rent at least (generally it is calculated on the base rent, excluding expenses, plus 19% tax). This will effectively mean that you will need to be able to pay roughly three times the rent upon entering the apartment (the commission, the first month, and one month's rent as a deposit).
Looking for shared accommodation
I have been focusing since the beginning in finding an apartment, but there certainly are plenty of options if you want to share a place with someone else. The two options I have been (shortly) considering are Craigslist (again, the same considerations in the previous section apply here) and Kamernet, a well-known website dedicated almost exclusively to rooms for rent. Even more than with apartments, being already in Amsterdam helps: you want to meet your possible flatmates in person and, more important, they want to meet you before making a decision. Do not make the mistake of underestimating the reach of your friends and acquaintances: they may know someone who is looking for a flatmate.
Registering as a resident and obtaining a BSN
Getting a BSN ( Burgerservicenummer, a sort of social security number) is a necessary step if you are going to live in the Netherlands: you will need it to get your health insurance, to open a bank account and your employer will need it before they can start paying your salary.
You will get a BSN by registering as a resident in Amsterdam and you are supposed to do so within the fist five days of arrival if you are planning on staying more than four months. If you are a Highly Skilled Migrant (see following section) the process is extremely simple and you can take care of everything you need in one single day at the Expatcenter, provided that you asked for appointment here (applies only to EU citizens).
You will need to provide:
your passport (an ID card may suffice, depending on your nationality)
a rental/tenancy contract or a home purchase agreement
Note that, if you have not found permanent accommodation by the time you need to register you may still register at your employer's address. Doing so, however, requires you company to provide a stamped registration form that explicitly authorizes you to do so. Note that this is considered by all means a contingency situation, and you will be required to register at your permanent address within three months. If you have a work contract already you can get a registration certificate (a sticker on your passport) as well: you will need it if you want to purchase an apartment or vote, for example. Note that to finalize registration you will have to present your birth (and marriage, if applicable) certificate in long form. You will not need this immediately as you can present it later, but if you have not left your country already, you can get one in advance.
Note that if you are not an EU citizen and/or not have a work contract yet the procedure may differ (even significantly), but luckily the IND (the Immigration and Naturalisation Service) has a wizard you can use to discover what you have to do to get a residence permit depending on your nationality and other conditions. The rules are quite complex but the wizard helps a lot: I suggest you to go through it.
Registering as a resident will kickstart a series of processes that usually end up in you having to pay some money: taxes on water and waste disposal are usually computed from the day you registered and bills will follow you a few days after you moved in.
Note that you may also want to register at you local embassy/consulate as a national living abroad. Specifics depend on your country, but the process is usually straightforward.
Highly Skilled Migrants and the 30% ruling
The Netherlands apply a particularly attractive policy to foreign workers that meet certain criteria: if you are recruited or transferred from abroad by a Dutch company and have a skill set that is rare or inexistant in the country you may be eligible to a tax reduction.
In practice, you can apply for the ruling if you earn more than a certain amount (at the time of writing it means € 50,000 if you are older than 30, € 38,000 otherwise) and your employer is willing to certify that you possess rare skills. Note that you can not present the application yourself: your employer has to do it.
If you present your application within 4 months of the start of employment the tax reduction is retroactive, otherwise it applies from the month after the one you filed your request. If your application is accepted, you will pay at most a bit more than 36% in taxes and will be eligible to a few benefits.  You can find more details on the ruling  here.
Opening a bank account
Opening a bank account is quite easy: there are less banks here in the Netherlands than there are in other countries and the difference in offering is not significant. If you do not know Dutch yet, you will be interested in banks that are able to deal with expats. The challenge is not in the staff (again, anyone is able to speak good English here) but in the correspondence: you will want to receive communications in a language you understand. ABN Amro is quite good in that respect (even though you will still struggle to find some documents in English) and I know that Rabobank has a special expat desk, but I am sure that you may the same with other banks as well. Just ask what they offer to expats and do not assume anything.
Once you made your choice, you will need:
your BSN,
your passport,
(usually) a copy of your contract or a letter of employment.
Note that if you don't have a BSN but you still need to open a bank account, the ABN Amro branch at Schipol Airport may be able to open one for you if you commit to communicate them your BSN as soon as you obtain one. Unfortunately I did not know that at the time, otherwise things would have been much easier.
Getting your health insurance
Health insurance in the Netherlands is mandatory, even if you already have a one in your country of origin. You will need to get at least a basic insurance package (around € 100 per month) for your company of choice. The contents of a basic package are regulated by law, insurance companies are not allowed to charge different fees depending on demographics and are not allowed to refuse assistance, regardless of pre-existing conditions. Unlike what happens in other countries, you have to pay for your insurance but your employer may provide additional coverage as part of the compensation package. There are many different insurance companies in the Netherlands but, if you are going to get any additional coverage as part of your compensation, you will probably sign with the ones your employer has agreements with.
Moving around
Amsterdam is a small city, especially compared with Milan, where I used to live until a few months ago. Commute is shorter and there are many different options for moving around.
Public transport
Public transport in Amsterdam is excellent: the network of trams, buses and subway allows you to get to most destinations in a reasonable amount of time and with a limited number of changes. While the regular service stops a bit after midnight, night buses are still frequent enough to be a realistic option (for everything else, there are taxis). You can get public transport tickets at vending machines that you can find at in all the subway stations, but you can purchase them on board of trams and buses as well. If you do so, you are usually surprised by the costs: € 2.70 for a 1-hour ticket (you can use it as many times as you want) and € 7.50 for a day ticket.
It is indeed a lot, but there are ways to pay less. If you get an OV-chipkaart you will pay as you go: the amount will be charged will depend on the distance you travel (with an average of about € 1.50 for a trip across the city). You will have to check by tapping your card against an RFID reader once you board and check out once you get off.
The card itself costs € 7.50 and it can be topped up online, at vending machines at stations and supermarkets. You can get an anonymous card or a personal one which will have your name and photo on it. The advantage of the latter is that you will be able to use it for seasonal passes or have it top up itself automatically with credit from your bank account.
You can travel on trains across all the Netherlands using the same chipkaart you use for public transport in the city, you will only have to visit one of the NS vending machines (the yellow ones) and select your preference between 1st and 2nd class.
Biking
Bikes are a symbol for the Netherlands, and you will find Amsterdam to be perfectly designed for cyclists. Locals prefer biking to any other alternative, and you will find people driving their bike to work regardless of the weather. Once you will have spent more than a few days here you will be inclined to do the same: if you spend most of your time within the city, biking is faster than any alternative.
Get a sturdy bike, as it will need to withstand harsh weather conditions. Do not buy a fancy bike, as it will get more than a few scratches when placed on bike racks (even if you pay attention to avoid that, people placing their bike next to yours will not be as careful as you). Buy a good lock, even if it costs a lot compared to the value of the bike, especially if you leave your bike on the street at night: crime rate in Amsterdam is lower than in other cities, but bike theft is incredibly common.
Driving
Owning a car in Amsterdam is expensive: the road tax is quite high and parking is very limited (bear in mind that even if you have a permit to park in your neighborhood, you will likely need to pay if you drive to another). Given the way the canals affect the road plan, traversing the city by car is generally not the quickest option. Should you decide to bring your own car, you will have to follow a strict procedure: you can find more information here. Depending on the country you come from, you may also have to exchange your driving licence with a Dutch one or get a new one.
Useful resources
I summarized all the information in my possession but I have not covered some topics that may still be of interest to you. The links in this section should provide you with all the information you need.
I amsterdam – by far the most complete and accurate source of information about what you need to know about moving to Amsterdam
IND – the official website of the Immigration and Naturalisation Service
Moving to Amsterdam – a useful section on Internations that contains some more useful information (access is restricted to members, unfortunately)
In addition to that, if you are already in the Netherlands or can plan a visit before moving, consider visiting the Expatcenter in person: they will be able to help you and give a clear picture about what you need to do in order to move here.
Bonus: Here's a book I'd recommend if you want to learn more about the Dutch and their culture:  Why The Dutch Are Different: A Journey Into the Hidden Heart of the Netherlands. It will be a good way to prepare to what you'll find once you move there.
Acknowledgements 🙂
Most of the information in this article comes from personal research but, even more, by friends that have been through the experience of relocating to Amsterdam. Their precious advice helped me making my move here smooth and painless. Thank you Andrea, Angelo, Matias, Nicola.
Liked this?
You can sign up here to be notified of new content. Low frequency, no spam.